Get grid spacing tools for your bullet journal or planner and skip the frustration with this limited-time deal on The Grid Tool – The Smarter Ruler.
I like to reward people who support me – especially those who help me early in my journey. They're the ones who've pushed me to make The Grid Tool better. They've challenged me to make it more compatible with many different sizes of journals, notebooks, and planners. Quite frankly, without my early backers, I wouldn't have the same opportunity to use my creative skills while helping others.
Upgrading a Time-Tested Tool
I've sold several variations of The Grid Tool for over 3 years now. Some of my early patrons have suggested great ideas and improvements. Others have asked for customizations (which I've happily obliged). More than a few have asked for a real plastic ruler. And after documenting more journal sizes, I evaluated my original lineup of The Grid Tool versions, which included 5x5mm A4, A5, B5, B6, and A6. When I did, I discovered several other size and variation possibilities.
In fact, I found at least 9 different versions of The Grid Tool to add to my near-future roadmap.
NEW Sizes Planned
(not necessarily in this order)
More 5x5mm Sizes:
A4+ ADDED
A4 Slim ADDED
A5 Slim (aka Cahier) ADDED
Traveler's (aka Classic Slim) ADDED
NEW 4x4mm Size:
A5 ADDED
A6 (Hobonichi Techo English Planner 4mm Memo Page Dot Grid and Daily Page Graph Grid)
NEW 8x8mm Size:
NEW Sizes for The Happy Planner:
Big Happy Planner Dot Grid (a non-standard size 4.28mm grid)
Big Happy Planner Square Grid (a size 1/5″ grid)
Classic Happy Planner Dot Grid (a non-standard size 4.28mm grid) ADDED
Classic Happy Planner Square Grid (a size 1/5″ grid)
NEW 1/2×1/2″ Sizes:
NEW 1/4×1/4″ Sizes:
A4/US Letter COMING SOON
A5 COMING SOON
NEW 1/5×1/5″ (aka 5×5 spaces in 1 inch) Sizes:
NEW 3.55×3.55mm Size:
Long Wallet (Hobonichi Techo Weeks – for Weekly Page & Memo Page 3.55mm Graph Grids) COMING SOON
And more sizes I'm still researching (not definitive)
Fabriano Eco Qua
Hobonichi Techo A5 Cousin (and others that have 3.7mm spaces)
1/8″?
6x6mm?
7x7mm?
Skinny Classic Happy Planner Dot Grid (a non-standard size 4.28mm grid)
Skinny Classic Happy Planner Square Grid (a .2″ grid)
…and more…
Some of these sizes are just alternate options (like the A4+ and A5 Slim aka Cahier). These are a free add-on to the already existing corresponding size. But the rest add up to at least 9 NEW rulers.
And these don't include the prototyping I've been doing on an entirely new version.
That means I'll add at least 9 completely distinct sizes of rulers to the original 5-type version of Master Set, for a total of 14 different rulers. And that brings me to an amazing offer for you.
Free Grid Spacing Tools
If you're like me, you like to experiment with different types and sizes of notebooks and journals. This is a lot of fun, but it can make it challenging to migrate layouts and grids between them.
This is where having a variety of versions of The Grid Tool can help. It's also the main reason why I offer the Master Set. I have a few Series (and planned Bundles), but The Master Set is where I put ALL the different sizes and options of The Grid Tool.
Buy Today – Get More FREE
As I add more rulers to my sets, I'm going to increase my prices. In fact, the first new ruler will be added and the first price increase will happen before November has already happened! And once I add all my planned rulers to it, the price of the Master Set will increase at least $20 from the original price.
BUT – I'm giving YOU the benefits of all my recent prototyping and versioning with a free upgrade offer. If you buy the Master Set today, you'll get 10 rulers for $35.97 – AND – I'll give you ALL the other rulers I add to the Master Set in the future – FOR FREE.
You'll not only get extra rulers for free, but you'll also pay only $2.57 each – more than 60% off!
And if (a very likely if) I add MORE sizes in the future, you'll get all those for FREE as well, reducing your cost per each even further!
All you'll need to do is contact me with your order info, and I'll give you access to download any other rulers I've added to the Master Set since your purchase date.
The longer you wait, the less you'll save
Getting the Master Set will always be a very good deal. But as I add more rulers, I'll keep increasing the price. Ultimately it will end at about 50% off the individual ruler price. But it won't be as low as 70% 60% off ever again.
Offering something for less than 30% 40% of the regular price is rare, but I think it's the least I can do for my earliest backers. However, I have another surprise for everyone who buys the Master Set.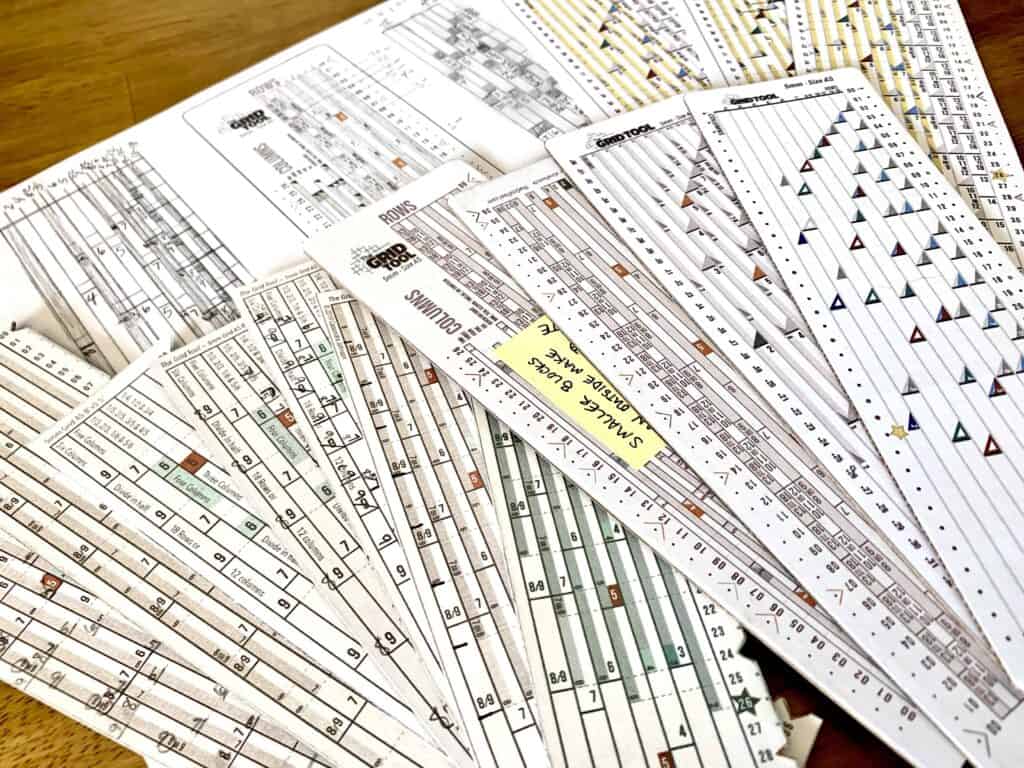 Free Grid Spacing Upgrades
Not only will you get more rulers in the future for today's price, but if you buy the Master Set I'll also give you access to download the latest versions.
I'm obsessed with perfection and sometimes can't help myself. I spend a lot of time thinking, testing, designing, scrapping ideas and reinventing The Grid Tool. So I frequently update my files with enhancements (and fix occasional bugs).
If you purchase an individual, Bundle, or Series of The Grid Tool today, you get your fixed-in-time version to download anytime you want.
But if you buy the Master Set, I'll give you access to download the latest upgraded versions of ALL my rulers.
This means you'll always have the opportunity to benefit from my ongoing learnings and experience. And, of course, a variety of options to choose from.
This is a very big project, and I wouldn't have gotten this far without a lot of support. I didn't want to start it until I felt confident and experienced enough to deliver what I promise. But I know there are still a few ways this could go wrong.
Risks and Challenges
In the interest of trust and honesty, I want you to know the risks and challenges a project of this scale may face.
Experience & Skills
I've sold several versions of The Grid Tool on Etsy for almost 3 years to almost 500 customers. In that time I've also gained over 60 5-star reviews. I have above-average design, tech, and troubleshooting skills. And I have over 2 decades of experience in art, design, tech, marketing, and educational fields.
Assets
The Grid Tool is a digital download. I only need a working computer, design, and PDF export software, an internet connection, a 365 days/24-hour personalized access file delivery system, and a working printer with supplies for prototyping. I've had access to all of the above for over a decade and don't anticipate losing access to any. But if I do it could cause project disruptions or changes.
Challenges: Time & Accurate Data
My greatest challenges will be a.) time and b.) access to accurate data about journal sizes.
I'm a one-mom operation, and this is just one project I'm doing to support my family. Things that may impact the time I have available to design, test, and distribute new versions of The Grid Tool include unforeseen emergencies, health or family matters, seasonal work for hire deadlines, and high volumes of customer service or sales. Any of these could delay or disrupt your ability to receive all your promised rulers. Therefore, I've created an extended timeline with what I believe is far more than an achievable deadline and goals.
I've personally researched ~130 journals and notebooks. Most of my planned rulers are ready to start prototyping and testing. However, unforeseen issues such as manufacturers changing their grid sizing or spacing may invalidate design work. This is a very small risk, but if it happens it may lengthen the time needed to finalize each ruler.
When will all the Free Grid Spacing tools be complete?
With these in mind, my goal is to complete my roadmap – adding at least 9 new rulers – by this time next year (2022). Of course, I will do everything I can to complete them much faster. I want to get them into the hands of people who can really use them.
UPDATE: I've released 3 alternate sizes and 2 brand-new sizes as of early November 2021. As of June 2022, I've released another brand-new size and scheduled the release of the next 4 VERY soon.
And, of course, if I'm able to add MORE rulers to the Master Set beyond my planned 9 in the next year, you'll be able to download all those as well.
Get Free Grid Spacing Tools and Upgrades
So here's my ask –
Please support my project and buy the Master Set TODAY.
Help me complete a variety of sizes and configurations to give planners, journalers, and crafters back their time.
Aid me in preventing hundreds (thousands?) more from burning out on the tedious parts of layout design.
And help yourself to an outstanding deal on quite possibly the most useful digital download you'll own.