A5 4mm grid spacing used to be a pain – until now! I had a special request a while back to create this version of The Grid Tool. It's designed for 4x4mm – or about 1/8 inch spacing, which is slightly smaller than the more common 5x5mm spacing. And it's compatible with many size A5 dot or line grid notebooks and journals, including size A5 Master's Touch dot grid notebooks from Hobby Lobby that have a minimum of 35×48 4x4mm spaces per page.
You can check it out in my Etsy shop, or read on to find out more about this "different" size.
In fact, I haven't yet come across many 4x4mm grid papers, notebooks, or journals, but I know they're out there. And just like how people have different preferences for paper and pen types, many appreciate the smaller line spacing size.
Line Spacing Differences
If you're in the USA, you're probably familiar with "Wide Ruled" and "College Ruled" notebooks and paper. "Wide Ruled" is just that – the ruled lines on the page are spaced further apart, to give the writer more vertical room. This gives people learning how to write and those with larger handwriting more space. "College Ruled", on the other hand, is spaced closer together, and is more commonly used by middle-school students to adults.
But dot and line grid paper patterns can also come in different spacing sizes.
Which size is best?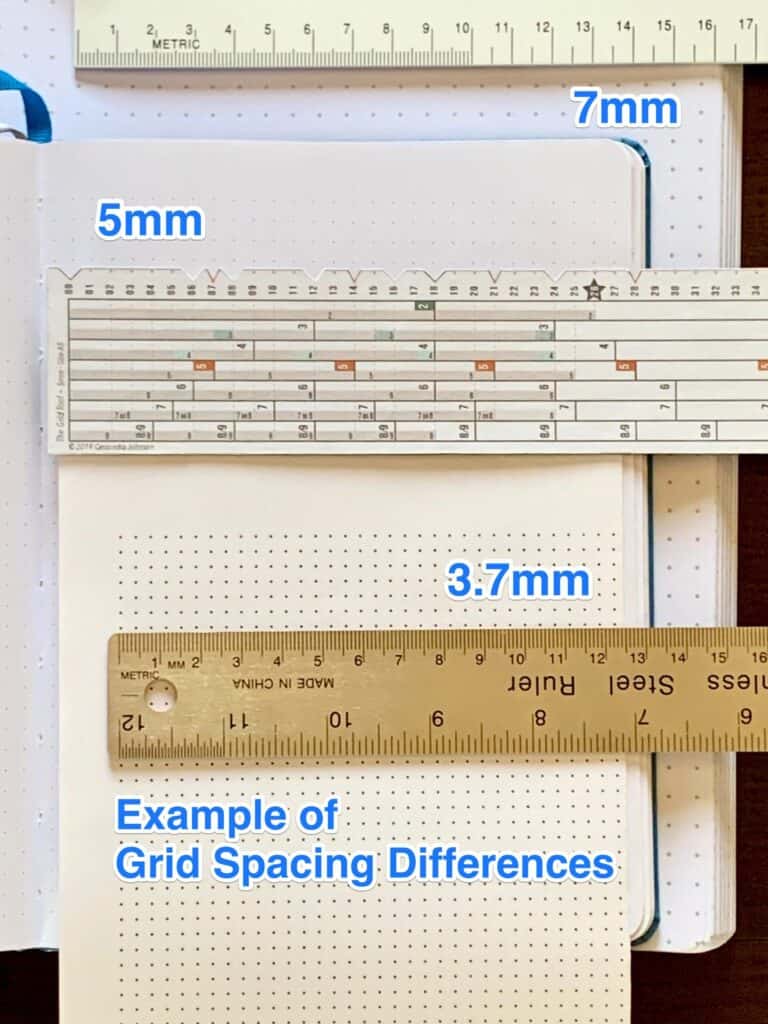 Although many popular dot grid or graph grid papers, journal, and notebook patterns are printed at 5mm scale spacing, some are printed in larger or smaller sizes.
For example, many people enjoy smaller spacing. In fact, there are many very dedicated fan groups for brands like The Happy Planner and Hobonichi, which print their grids much smaller than the standard 5x5mm.
However, if your hand tends to get cramped up trying to keep your letterforms between "lines" that are less than 5mm, going down in size may not work well for you.
Similarly, if your handwriting tends to be a larger size, 5mm may even be too small. Going up to at least 1/4″ (also known in the USA as "Quad" or 4×4) might not seem like much, but it could dramatically increase your comfort level with writing.
And if that's not enough, did you know there are dot grids that are 7mm or even 1/2″?
What spacing size do YOU use?
I'm curious to know – what spacing size do you prefer, and what journals or notebooks do you use? Are you a fan of 4x4mm spacing? Or do larger spaces work better for you? Drop me a line and let me know!