Journal grid tool shopping starts with knowing what YOU need AND what your options are. If you've picked out the most gorgeous notebook or journal, you want to get something that will work with it flawlessly. And if you're here, you've discovered the ultimate, time-saving SMARTER ruler – The Grid Tool. But now you may be asking – "Will The Grid Tool work with MY notebook or journal?"
This is one of the most common questions I get, and the answer for you and everyone else is – "Almost definitely".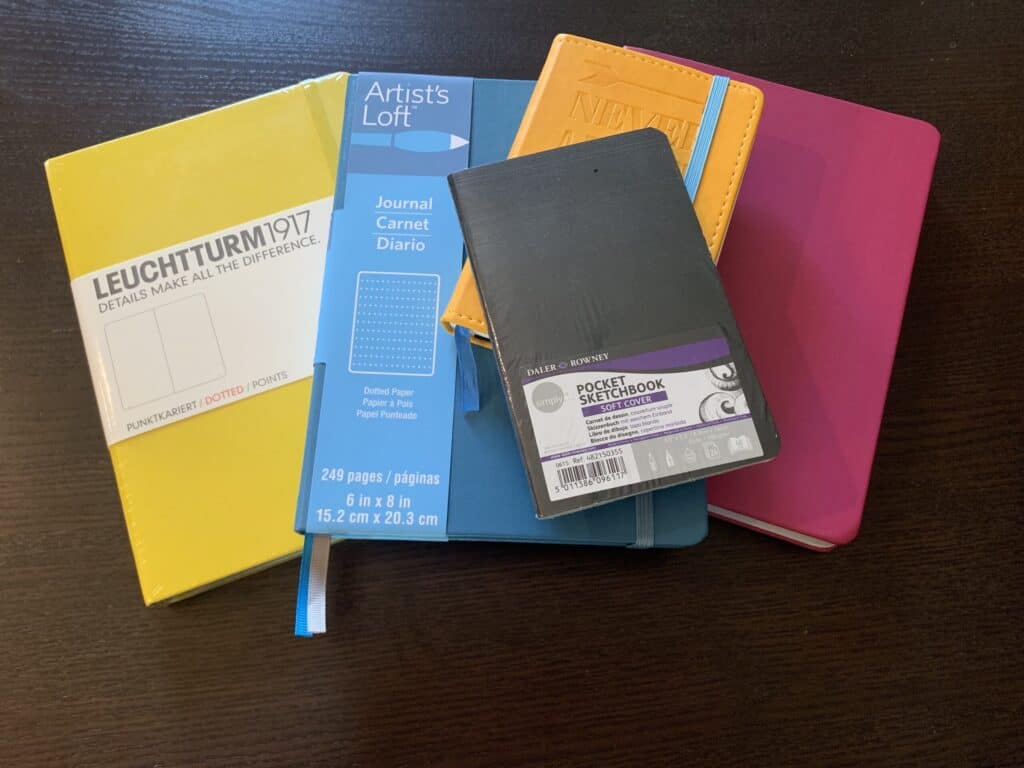 First, The Good/Bad News
Variety can be good…
We have THOUSANDS of notebooks and journals to choose from. Whether you like your journal pages blank or printed, small or large – you can find something you like at your local store or online. Many of these books may be similar, but every manufacturer or brand produces notebooks of different sizes, printed with different lines, grids, or dots. This can make for hundreds of thousands if not MILLIONS of different combinations of paper type, color, or size, to printed pattern, bleed, etc.
…but hard to wrangle
I've crafted The Grid Tool with precise measurements. Because every brand is different, it can't match every notebook or journal available. And no one wants to buy something they can't use; I want my tool to be helpful – not a waste of money!
Standard sizes and configurations
The good news is – the vast majority of popular journals and notebooks are made to mostly standard sizes and configurations. And, even better, I've designed several versions of The Grid Tool for compatibility with many of them.
How do I know this? While I do have an obsession with nice notebooks, I don't have a copy of every single one known to man (yet). But I do have research skills and a lot of amazingly generous fans of The Grid Tool. Many have Contacted Me and told me about their journals and notebooks, and I've compiled that information together in a Google Spreadsheet of Notebook Sizes.
So – one easy way you can check to see if your notebook or journal will work with The Grid Tool is to find it on my Google Spreadsheet.
Is your notebook or journal in my spreadsheet?
On each row in my spreadsheet, I've added detailed information about many popular brands of notebooks and journals. I've included standard paper size, length and height (in imperial and metric measurements), number of dots and spaces, and, of course, The Grid Tool compatibility.
What if my notebook or journal isn't on the list?
Not on the list? Different than the information I have? Contact Me and let me know about it. I'd like to add as many as I can and help you figure out if The Grid Tool is compatible.
And if you'd like to find out for yourself whether or not The Grid Tool will work for you, read on.
3 Easy Things to Check
There are 3 critical factors (and 1 slightly tricky detail) that determine your notebook or journal's compatibility with The Grid Tool.
What do I mean? Well, you can be confident The Grid Tool WILL work with your notebook or journal if it's:
Printed Pattern Type is evenly square,
Printed Pattern Spacing matches the spacing on at least one version of The Grid Tool, and
Page Dimensions – both vertically and horizontally – are equal to or larger than the largest vertical and horizontal demarcations on The Grid Tool.
Still confused? No worries!
I wrote a detailed post showing you exactly how to check for all three of these: Which notebooks or journals does The Grid Tool work with?