How can you keep your Bullet Journal Key handy? How about writing it on the back of the bookmark-sized Smarter ruler – The Grid Tool? Get two tools in one with this productivity hack.
What's A Bullet Journal Key?
A bullet journal key is an essential aspect of bullet journaling. It acts as a quick reference guide for symbols and shorthand you use in your journal to categorize and organize your thoughts and tasks. Keeping your bullet journal key handy is crucial for quickly finding information and staying organized.
When I first learned about Bullet Journaling, using a symbol key was one of the most appealing aspects of the system. I have a background in illustration, so drawing out icons in my planner seemed like a logical step toward productivity heaven.
So I went all in. I copied keys created by other Bullet Journalers. And I found a system that uses dashes instead of dots. I even incorporated some Scrum categorization systems I've learned from website project management.
The problem was, I didn't use them.
Why I Didn't use a Bullet Journal Key (Oops!)
It wasn't for lack of trying that I didn't use a bullet journal key. People suggested using a dedicated page in my journal for my key. So I sketched my key inside the front cover of my first bullet journal. Then I promptly forgot about it.
I tried drawing my key in a fold-out section in my planner. Nope.
Then I filled up my notebook and moved onto the next. And I had to re-draw my key AGAIN.
I've written, re-written, and edited my key SO many times, but rarely if ever, did I actually use it.
Out of sight, out of mind
It wasn't until I decided to take a step back that I figured out something that finally worked for me.
My first few journals didn't have marker ribbons in them. When I got a few journals that had them, I started using them. One stays at the current place in my journal, and I use the other to reference back to other sections I'm using from time to time.
One day I was looking at the back of The Grid Tool and wondering – what could I put there? With the notches on the side, I was a bit limited. But then it hit me. I use the ribbons in my journals because they're right there in front of me every day. If I'm going to start using my bullet journal key more often, I have to do the same thing.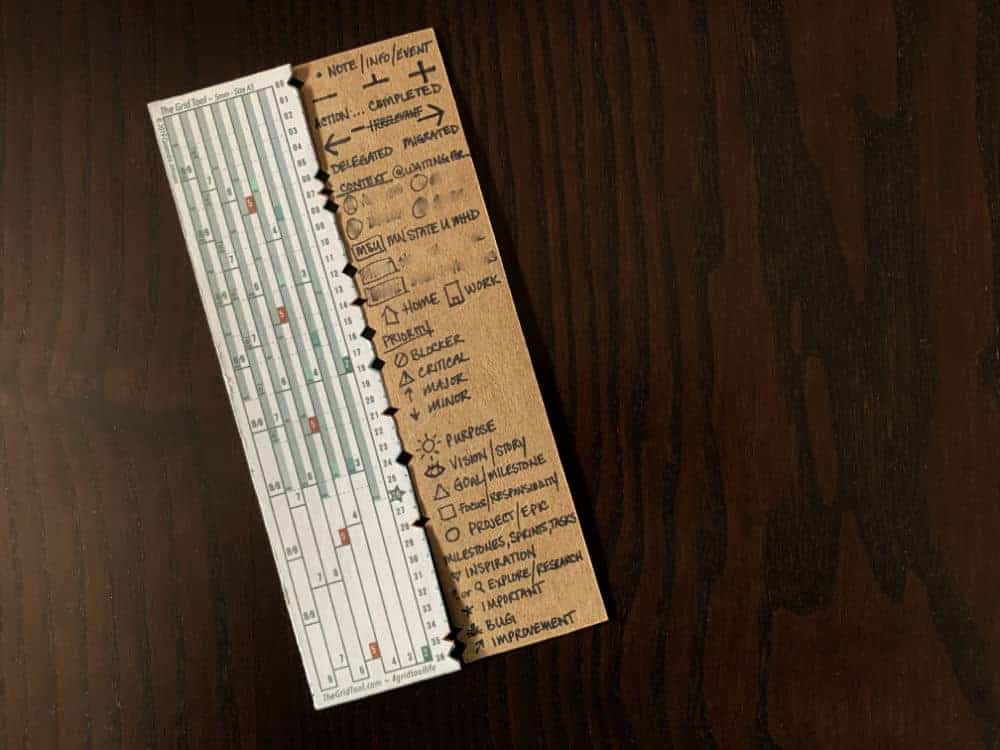 Mark my place, remind me of my key, AND help me grid faster
Today, The Grid Tool is tucked between the pages of my bullet journal. It actually helps me find my place faster than a ribbon because it's a little thicker. And it's become an even handier tool now with my bullet journal key on the back. I'm still not using it to the level I want. But with it right in front of me daily now, I'm getting there.
And now that I think of it, actually, it's a three-in-one tool – bookmark, key, AND Smarter Ruler.
So if you're ready to put your key on the back of The Grid Tool, here are a few tips:
Keep it simple
Keep your bullet journal key simple and easy to understand. Use symbols and shorthand that are intuitive and easy to remember. Avoid using complex symbols that you'll forget or have trouble deciphering later. There are only a handful of symbols I use on a regular basis, to be honest. The rest are specially dedicated to people or contexts and I use them much less often.
Use color
Using color can make your bullet journal key stand out and easier to remember. Color coding your symbols can also help you quickly categorize information in your journal. This is a great idea if you like to use different markers and pens a lot. But you can also make symbols look different by creating open and filled-in spaces. This is handy for times when all you have is one pen or pencil color.
Update your key regularly
As you progress with your bullet journaling, you may find new symbols or shorthand that you'd like to include in your key. Make sure to regularly update your key to reflect these changes. Mine has always been a work-in-progress, so don't be afraid to make changes sometimes!
In conclusion, keeping your bullet journal key handy is crucial for making the most of your journal. Use these tips to help you keep your key easily accessible and make your bullet journaling experience smoother and more efficient.