It's easy to make mistakes when choosing or switching your dot grid journal or notebook. They come in all different sizes and grids – and nearly none of the brands I've researched match up!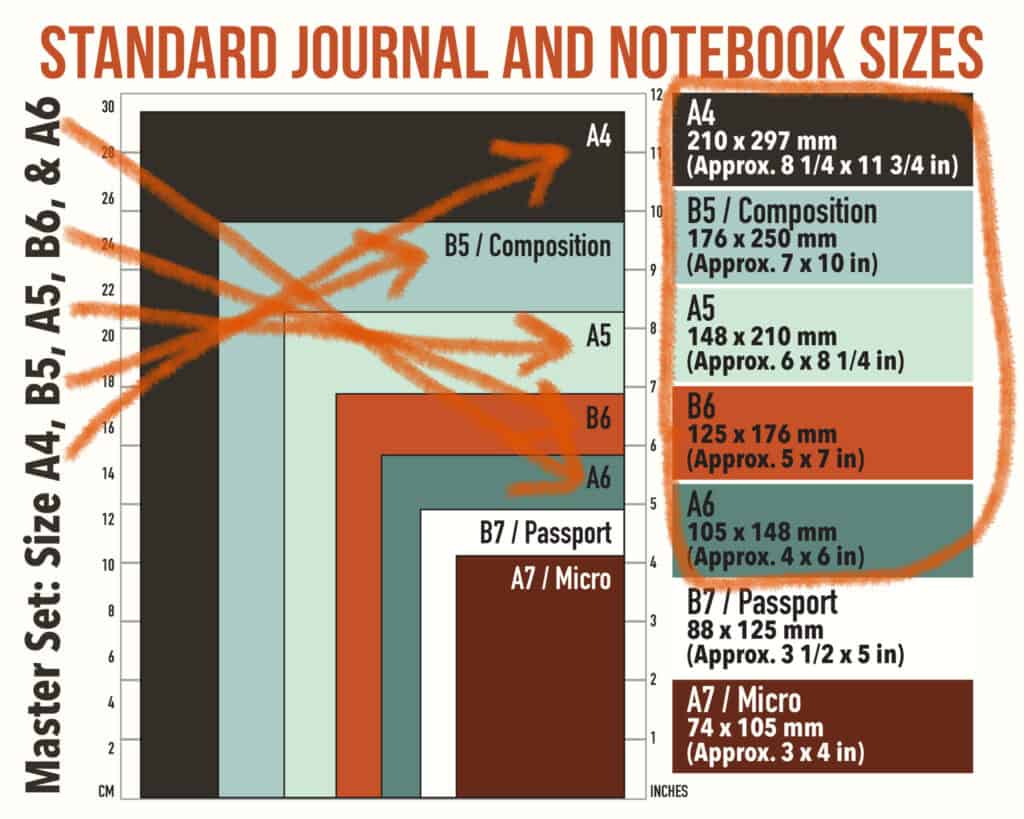 It's Not Your Fault
A5, A6, B5, A4, A4+ – it's enough to make your head spin! There are so many dot grid journal size choices, and it usually comes down to personal preference. Do you want one small enough to fit in your pocket or purse (usually size A5 or smaller)? Do you need more writing space on each page (maybe composition size or larger)?
Popular A5 Journal Size
What I found out early on when choosing my dot grid journal was that somewhere in the middle is the A5. A5 refers to Paper Size A5, which is 210 x 148 mm or 8.27 x 5.83 inches. It's the most common choice for DIY planners and bullet journal enthusiasts.
But even if you choose an A5 size notebook, it may be anywhere from 8″ to 8.3″ tall and from 5-6″ wide – depending on the brand! There is NO "standard" size because every notebook manufacturer chooses whatever dimensions they want within a "range" close to A5 size paper.
Extra or fewer centimeters between brands means more or less printable area on the page. So one brand's dot grid may have more or fewer dots (and rows and columns) than another brand.
Not only that, but sometimes brands re-design their page layouts! This can wreak havoc with your favorite spreads when you try to migrate them into a new notebook, as seen in a Reddit thread about Leuchtturm1917 A5 notebooks missing a dot in newer versions.
Choosing a Dot Grid Journal
Even if you're a minimalist when planning layouts and spacing for your bullet journal or DIY planner, the dotted journal you select can make a HUGE difference.
Why?
Your layouts may not fit because different brands use different numbers of "lines" or rows (and columns) of dots. Not only that, but some brands leave a margin, while others print the dot grid right up to the edge of the page.
So when deciding which notebook to use, you want to make sure your layouts will fit on the pages. This isn't such a big deal when you're just getting started and don't have any favorite grid patterns. However, it can become a problem later on if you decide to migrate to a different brand.
Switching Dot Grid Journal Brands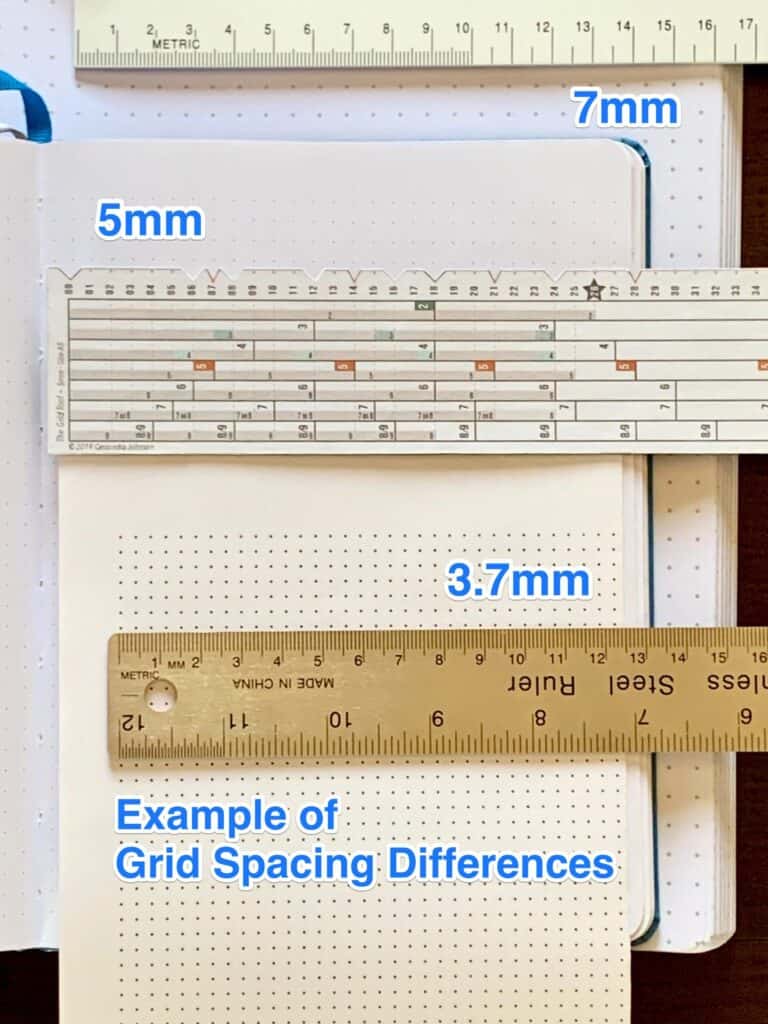 The longevity of your layouts is dependent upon both the brand and the size of the notebook you choose, and switching to a different brand may not be easy.
First of all, most brands space their dots or grids 5mm apart. But I've also seen odd sizes reported – for example, 6mm, 4mm, and even 3.7mm. These grid spacing variances can add or subtract the number of rows (horizontal lines) or columns (vertical spaces) you have available.
Slightly different notebook page sizes can make for different dot layouts as well. I'm not just talking about fewer dots on smaller pages, either. The A5 Medium Leuchtturm1917 Dotted notebook is 5.75″ x 8.25″, slightly larger than the 5.5″ x 8″ 'ME to We' Walgreen's brand dotted line journal.
HOWEVER…
The ME to We notebook has 39 dots vertically and 27 dots horizontally on each page (38 rows and 26 columns). In contrast, the popular Leuchtturm1917 has only 37 dots vertically (36 rows) and an extra dot horizontally – 28 dots (27 columns).
Why?
The ME to We notebook has no margins or page numbering, whereas the Leuchtturm1917 has an extra margin on the bottom to give the pre-printed page numbers some space. It also adds a column, because it's using more of the .25″ area it has over the ME to We brand.
So if your designs rely on a 28 dot spacing horizontally (like the Leuchtturm1917) and you switch to a different brand with fewer columns (like the ME to We), you'll have to reconfigure your layouts to account for that one less 5mm space.
Knowing about this ahead of time can help you make the best decision when you switch and avoid frustration.
Changing Dot Grid Journal Sizes
Another challenge presents itself when you decide you want to use a smaller or larger journal.
Over time, you might find yourself running out of room on each page. Or, the opposite, having too much left untouched by your pen or pencil. You might decide to move up or down a notebook size as your planning style evolves. But before you decide to make the change, you'll want to again review and test how easily (or not) it will be to convert your favorite layouts to the new format.
It's evident if you're moving to a smaller journal that you'll have fewer rows and columns on each page. But you might unexpectedly run into issues with your designs when adding more space to your pages. Unless you go from a mini A7 to an A5 or more, you might not be able to double the size of everything; you may have to rework it entirely.
Again, awareness of these possible issues can save you a headache and help you better plan for changing sizes.
How to Make Changes Easier
So what happens if you decide to switch brands or sizes after you're well into your planner journey? Not all is lost – especially if you're committed to growing and learning.
My journals have spanned over four different brands in 2 short years, and I've survived each transition – you can too.
If your layouts are more than minimal, it can take a lot of work to re-design them. One of the biggest challenges I've run into is all the counting, re-counting, calculating, and dividing, over and over again; just to evenly space sections of my layouts.
A grid spacing cheat sheet is a good place to start to make the job easier. But if you want to get it done even faster, you need a better tool.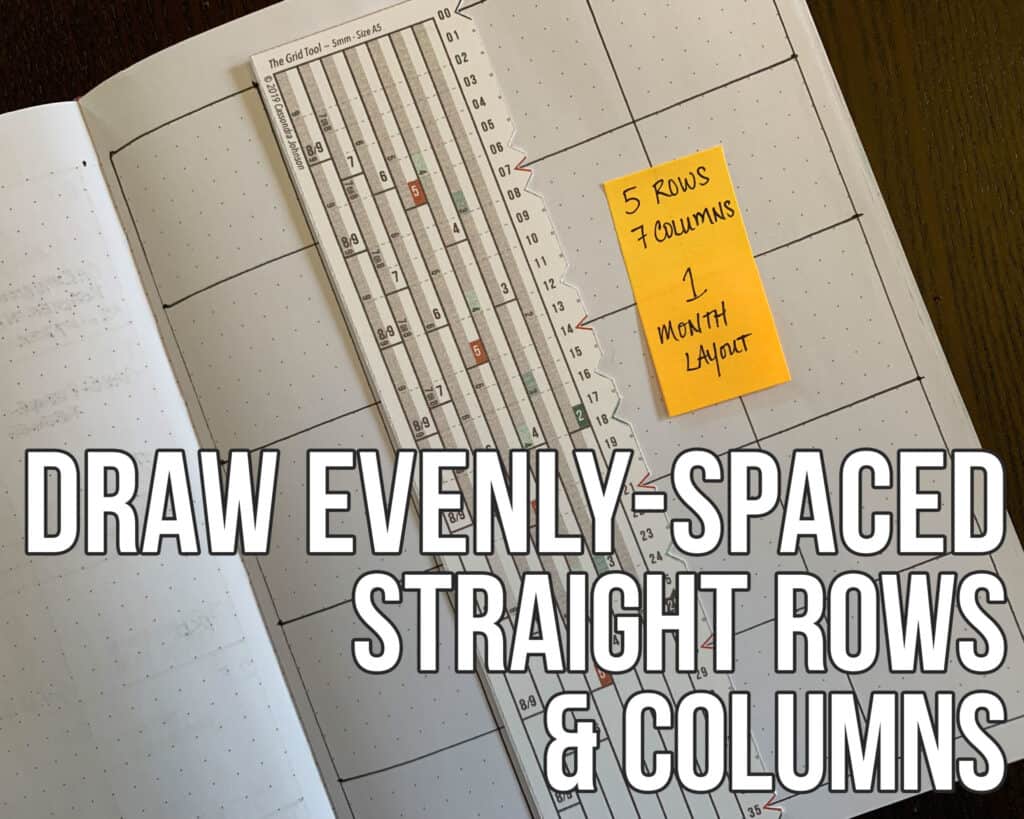 The Grid Tool is just that. It's a visual, portable device you can use on any page. See exactly where you can divide it into even rows and columns.
The Grid Tool 5mm Size A5 uses 26 columns and 36 rows. That's enough to divide the page and sometimes leave a small margin; no matter if your A5 notebook is a Leuchtuurm, Rhodia, Moleskine, or another popular 5mm dot grid brand.
I've also designed other sizes, so whether you like a larger or smaller journal, I've got you covered.
This site is where you'll find tons of helpful Tips, Tricks, and Tutorials – I recommend getting started in 3 easy steps at How to Use The Grid Tool: Start Here.
The best part is – You can download and print The Grid Tool today! Find the size that matches your journal in my Etsy shop or message me if you need help finding one.